1-800-MEDORA-1
HAROLD BUS TO MEDORA!
Catch a ride from three different cities to see the 2017 Medora Musical!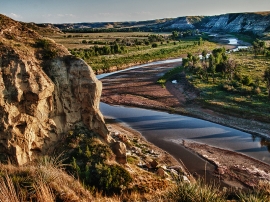 2013 Medora Musical cast and band members announced
(Medora, ND) The Medora Musical announced today the cast and band members for its 2013 season.
Twelve (12) singers and dancers will make up the cast of the Burning Hills Singers, in alphabetical order, they are:
· Mark Baily Capalbo New York City, NY
· Dan Crary Billings, MT
· Cari Downing Rock Island, IL
· Kevin Korczynski Bel Air, MD
· Steve Lasiter Beaumont, TX
· Candice Lively Strawberry Plains, TN
· Lauren Mikeal Waco, TX
· Kayla Rickter Morristown, TN
· Carolyn Schmitz Wells, MN
· Lindsey Spencer Lexington, KY
· Gerry Williams Durham, NC
· Chet Wollan St. Anthony, MN
Six musicians will comprise the show's live band, The Coal Diggers, in alphabetical order, they are:
· Ed Avila Bass
· Mark Bohn Drums
· Nick Kellie Guitar
· Josephine Michener Fiddle
· Roger Rettig Pedal Steel
· Jim Stevenson Keyboards
"The talent of this year's cast and band is outstanding," says Medora Musical manager Kinley Slauter. "We always strive to recruit the best and we've found it in these performers. We're confident that our audiences will agree."
The Medora Musical will begin its 2013 season on June 7 at its new time, 7:30 PM MDT. Slauter says the public will be able to get an early look at this year's ensemble in two special performances in Fargo and Bismarck, which will be held later this month. More details on these appearances will be announced in the near future.
The Medora Musical is one of the premier outdoor shows in the United States. The show will be performed nightly from June 7 to September 7, 2013 amid the splendor of the North Dakota Badlands in the 2,852 seat Burning Hills Amphitheatre in Medora, ND. Tickets and further information are available online at www.medora.com.
-- END --